Why?
This morning, I saw a post on Search Engine People Blog, and decided to make a summary of it, so that I don't have to think of the reasons for using Lynx when I'm asked for that next time.
Past usage
Lack of GUI web browsers like Firefox and Internet Explorer
Text browsers were capable of loading contents quickly, if there's no connection problem.
The Internet wasn't fast enought for extensive transmission of images and flash animations.
Present usage
"You really love text and hate images" :)
"For marketing to search engines"

"See what SEOs see": they use browsers similar to Lynx.
Remarks: Due to my laziness, reasons for search engines to use text browsers, instead of "a modern browser", are omitted.
How?
For GNU/Linux, type the command for installing Lynx. For
Ubuntu/Debian-based Distros
$ sudo apt-get install lynx

Fedora
$ su
# yum install lynx

Microsoft Windows
Refer to the section Lynx Links in the post on Search Engine People Blog.
What can I see?
This is a screenshot taken in Linux text mode.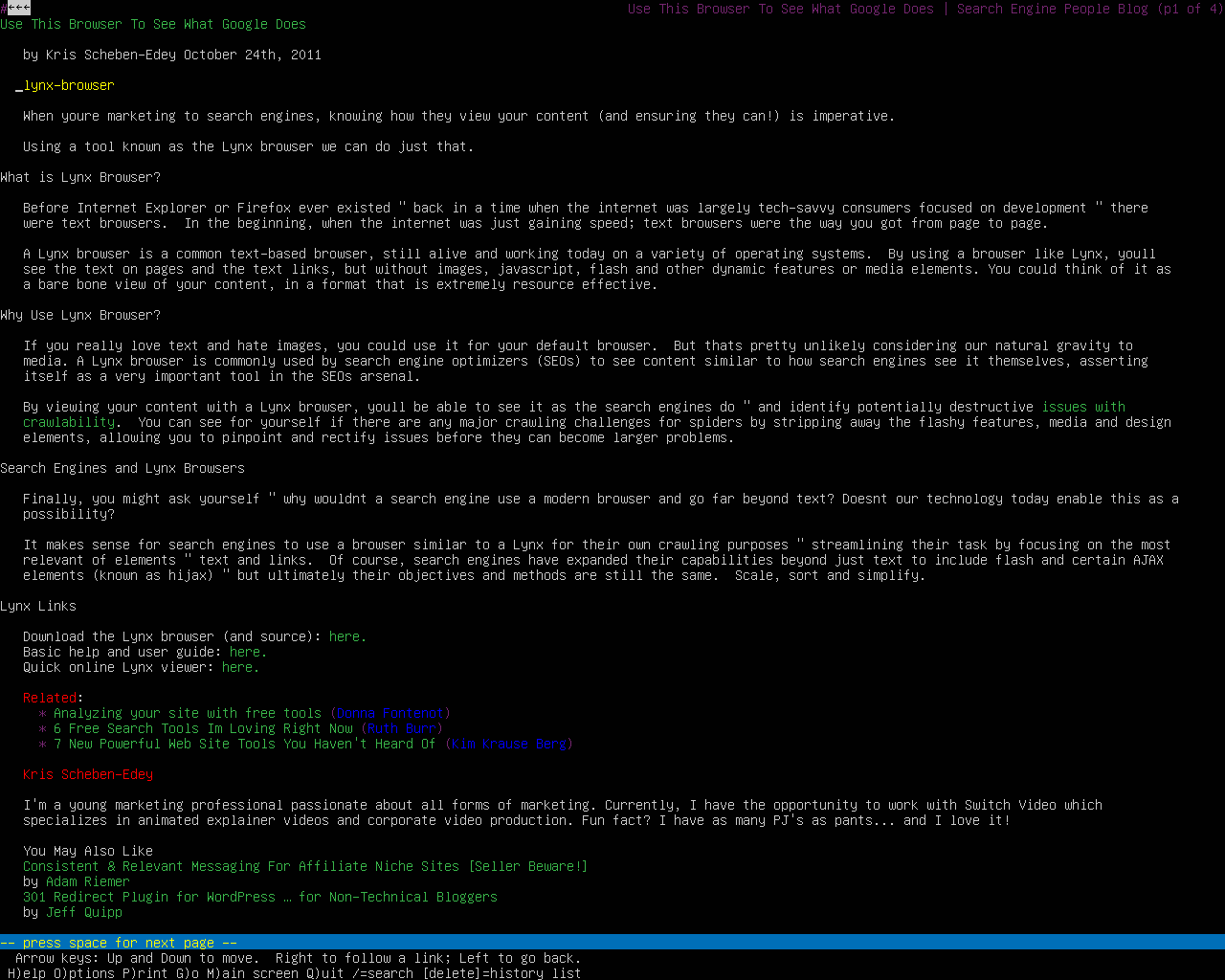 Some useful keys
Help
Use k for keymap
Use h or ? for help
Browsing
Use g for inputting URL
Use G for inputting URL similar to the one of the current page.
Use l for displaying URLs of hyperlinks.
Use <Backspace> for displaying browsing history.
Use \ to view the source code
Searches
Use / for forward search
Use n for repeating search forwardly
Use N for repeating search backwardly
How to save the pages?
Source code

Inside Lynx 1. Highlight the link using the cursor 2. Press d to download the source code
Outside Lynx
Use the following command

$ lynx -source [URL]

Formatted output

$ lynx -dump [URL]
Google's Homepage Downloaded with `lynx -dump` (LynxDumpGoogle.txt)
download
1




2




3




4




5




6




7




8




9




10




11




12




13




14




15




16




17




18




19




20




21




22




23




24




25




26




27




28




29




30




31




32




33




34




35




36




   Search [1]Images [2]Maps [3]Play [4]YouTube [5]News [6]Gmail [7]Drive


   [8]More »


   [9]Web History | [10]Settings | [11]Sign in





   Google





   _______________________________________________________


   Google Search  I'm Feeling Lucky                          [12]Advanced search


                                                             [13]Language tools





   [14]Advertising Programs     [15]Business Solutions     [16]+Google


    [17]About Google     [18]Google.com.hk





                        © 2013 - [19]Privacy & Terms





References





   1. http://www.google.com/imghp?hl=en&tab=wi


   2. http://maps.google.com/maps?hl=en&tab=wl


   3. https://play.google.com/?hl=en&tab=w8


   4. http://www.youtube.com/?hl=en&tab=w1


   5. http://news.google.com/nwshp?hl=en&tab=wn


   6. https://mail.google.com/mail/?tab=wm


   7. https://drive.google.com/?tab=wo


   8. http://www.google.com/intl/en/options/


   9. http://www.google.com/history/optout?hl=en


  10. http://www.google.com/preferences?hl=en


  11. https://accounts.google.com/ServiceLogin?hl=en&continue=http://www.google.com/%3Fhl%3Den


  12. http://www.google.com/advanced_search?hl=en&authuser=0


  13. http://www.google.com/language_tools?hl=en&authuser=0


  14. http://www.google.com/intl/en/ads/


  15. http://www.google.com/services/


  16. https://plus.google.com/116899029375914044550


  17. http://www.google.com/intl/en/about.html


  18. http://www.google.com/setprefdomain?prefdom=HK&prev=http://www.google.com.hk/&sig=0_E8LrWwWohWMriV1EcfDOmEFgqE4%3D


  19. http://www.google.com/intl/en/policies/